What is Advocate Cycles?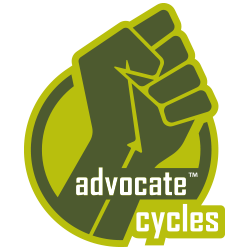 Advocate Cycles is a bike company that exists solely to create innovative bicycles and deliver 100% of profits from the company back to cycling advocacy efforts.
We use a new, pioneering legal approach called the Specific Benefit Corporation (SBC), a corporate form that started in Minnesota on January 2, 2015. SBC is designed to help entrepreneurs start and grow social businesses and provide a guarantee to consumers that the social promise set forth is upheld.
Benefit Corporations are like traditional for-profit corporations in most ways except they make special commitments.
First and foremost, an SBC declares a legally binding social purpose in addition to its general business purpose, which its directors and officers must consider when making strategic decisions for the business. As a means to be held accountable, SBCs must also publicly report its progress toward the designated social purpose each year to the Minnesota Secretary of State. Additional details of SBC legal requirements can be found in Minnesota Statute 304A.
Mission
Simply put, the mission registered with our SBC status is to support organizations, projects, and initiatives that have positive outcomes for cycling. We will do this by putting 100% of our profits back towards cycling industry advocacy efforts.
Because we are still held to standard IRS rules, we are only allowed to donate 50% of our profits to non-profit organizations. But every year we will also be donating the IRS-capped 50% of our profits to cycling industry non-profits such as the International Mountain Bicycling Association (IMBA) and People for Bikes. We then take the remaining 50%, pay required taxes on that amount, and use the remaining money to run our own advocacy programs during the following calendar year.
For instance, our formula would look like:
Theoretical yearly profits: $100,000
Donations to non-profit organizations: $50,000
Claimed profit to the IRS: $50,000
Tax paid (15% rate): $7,500
Remaining funds carried over and applied to subsequent year advocacy efforts: $42,500
Each year the post-tax profit of the company will be applied to a budget that will be used to conduct our own advocacy efforts. Projects and initiatives include conducting specific events to benefit trails organizations, lobbying governmental entities for the rights of cyclists, creating programs to excite children and non-cyclists to use bicycles for transportation and enjoyment, providing tools and equipment to existing support programs, and growing the business of Advocate Cycles to increase our contribution every year.
In addition to monetary contributions, we will also be giving paid time to employees to work on programs of their choice while using the company and its products to spread the word of how being a cycling advocate makes riding better for all of us. We want every single one of our riders to be a cycling advocate.
Logo
The raised fist is a symbol of empowerment in many different areas of modern culture; we want Advocate Cycles to be the symbol of empowerment for cyclists
Year 1
As with any new business, it is not likely to be profitable in the first year of existence. Due to our choice of mission and corporate structure, we cannot take investors. We have entirely self-funded the start-up of Advocate Cycles with personal resources and crowdfunding, but we will need to grow additional capital in order to hit our target of 500 bikes, allowing us to meet our financial goal shown above. Some of our strongest efforts in year 1 will be to reinvest capital from product sales into the company.
Even in year 1 we are obligated and excited to uphold the mission we have registered as a Specific Benefit Corporation.
A separate arm of our corporate structure–Advocate Cycling Productions–puts on endurance races in the upper Midwest. These events drive 100% of proceeds back to the trails they take place on and are anticipated to raise approximately $45,000 for those trails this year. In an effort to align with likeminded organizations, we will become corporate members of IMBA, People for Bikes, 1% for the Planet, and the Adventure Cycling Association.
Our employees will be encouraged and empowered to engage and lobby in important efforts at the local and national level. Finally, we will create programs to help schools with bicycle programs aimed at teaching students maintenance; they will be provided with tools and customized training, and we will conduct our first program near the end of the calendar year.
Tax Advantages?
Nope. Like any traditional for-profit business corporation, Advocate Cycles is taxed as a C-Corporation.
Donations?
Again, no. An SBC is not an IRS tax-exempt organization. Therefore, SBCs can't receive tax-deductible donations from individuals, and special rules govern how foundations engage with them. Advocate Cycles funds all of its programs through the sale of its products.